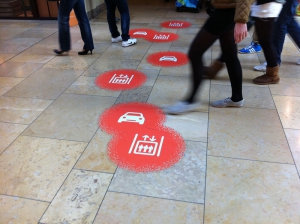 Floor graphic is another creative way not only to promote and lead the walking traffic to your business but also works great for construction side safety sign and notification. With high ANTI-SLIP performance, our floor signage is suitable for high traffic area in both indoor and outdoor environment such as airport, train station, shopping center/district, retail shops, auto dealerships, school, museum, hospital, community center, construction site and staircase steps.
Applicable to
Indoor: tile, carpet, any smooth indoor surface
Outdoor: asphalt and concrete pedestrian surface
Available in custom sizes and shapes.
Contact us for more detail and free quote.